Bologna Children's Book Fair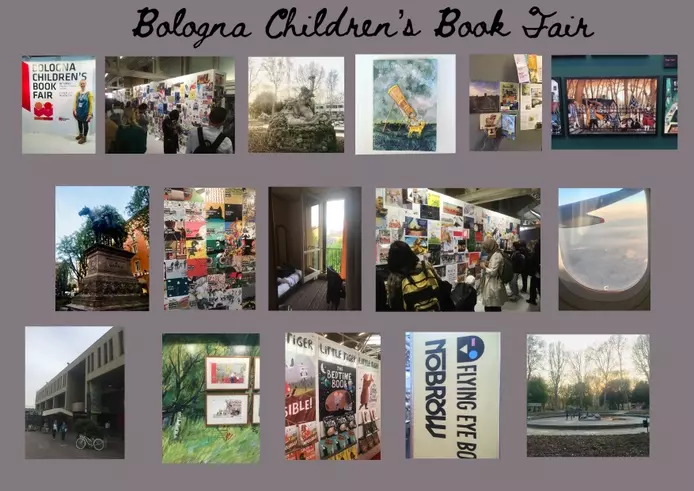 People often ask me if my illustrations are from a book, so I have been thinking a lot about creating a picture book with my illustrations, I have three young children who I LOVE reading stories to, and I guess they have inspired me along the way (my children and the picture books!).
After having recently done a course in children's picture book writing and illustrating (more on that coming soon). I found out about a fair -THE fair- for children's books in Bologna, Italy. I booked my ticket, packed my bag and jumped on an aeroplane. It was so exciting heading out to Italy, where I had never been, by myself to check out the fair.
The hotel I had booked , The Mercure , in central Bologna turned out to be perfect, the bus to the fair went from right outside, the ride there was about 15 minutes as it is in the 'Ingresso da Piazza della Costituzione' a huge venue just outside Bologna. You can buy tickets before you go from the Bologna Children's Book Fair website which is the best idea as they are 18 Euros cheaper.
Once I arrived, I realised just how big it is, there are 6 massive halls filled with publisher's stands from all over the world. As you go in, there are walls where illustrators, like me , can stick up examples of their illustrations with their contact details on, so if a publisher or agent likes the look of your work, they can take down your details. There are quite a few of these walls, and they were full of posters put up by illustrators , even by the end of the first day, which just proves how popular it is and how many illustrators visit. But, you've got to be in it to win it right?!
I continued into the fair, and it was so inspiring , right from the start, there were talks, illustration exhibitions, and of course, many, many publishers stands to see, all full with the most beautiful books.
I decided to go to the fair quite late on, so I was only able to book one appointment beforehand to see a publisher and show them my illustrations and book idea. If you are planning on going, people start booking appointments from the November the year before the show , which is usually in April, so it's good to get organised early!
The publisher's stands are busy all the time, so it was good to have one appointment booked. I walked around all of the other stands and was prepared with a little booklet featuring my best illustrations which I thought were well suited to children's books. You can see a picture of my booklet amongst the photos above.
I found myself feeling quite overwhelmed once I was walking around the fair, and had to give myself a stern talking to about 'not coming this far to not talk to anybody!' so plucked my courage and introduced myself to one of the people on the front of the stands. Needless to say, they were very friendly, and once I had spoken to one it was much easier to introduce myself to others.I gave out all of my portfolio booklets over the two days I was there, also collecting the publisher's contact details so I can get back in touch once I was home. Seeing the different books on each of the stands you get a feel for which publishers would be more of a good match for you than others. It's such a competitive industry, and a big learning curve, but it was good to have more of an idea of which publisher to aim for over others.
I enjoyed meeting some of the publishers face to face, and apart from the appointment I secured before I went, I managed to see a few more who had some spare appointments whilst I was there. Getting some professional feedback was amazing, face to face meetings will always beat email and telephone correspondence.
Some of the publishers also have a set time where you can queue up to get a portfolio review. These queues are long and people queue up for hours for this opportunity.
Apart from all of the beautiful publisher's stands , there are illustration exhibitions by award winning illustrators from across the world and inspiring talks by professional illustrators.
Not to mention Bologna itself, which a really beautiful city, I had time to have a short wander round and a delicious Italian pasta dinner. I'm sure there is so much more to see, I'll have to go back again next year!
Recap on what to take to the fair for illustrators:
- A portfolio of your best illustrations , I would recommend no bigger than A3.
- A printed booklet of a selection of your best illustrations to hand out.
-A poster with an example of one of your illustrations with your contact details on to put up on the wall at the front of the fair.
-If you have a book idea, a set of thumbnails outlining your story idea, so you can pitch it to potential publishers.
-Be brave, , everyone is very friendly!